Hey everyone,
It's been a while since we last posted an update on our blog but I promise, it's been for a very good reason and this post should help give you a peek at what's been happening behind the curtain.
Firstly, let me address the elephant in the room. 2020 has brought a storm that the whole world has had to weather and our thoughts go out to anyone who's been affected by COVID-19 in any way.
Being based in the UK, both Chris and I have been spending our time pretty much in lockdown and spending quality time with our families and keeping safe. Although we've been maintaining and doing a few behind-the-scenes bug fixes, our priority has been our safety, family, and this little update we've had up our sleeve.
So without further ado, let me give you a peek at this latest update.
A Fresh & New UI/UX
Since we first launched Split Hero we've come a very long way. During the lockdown, Chris and I sat down (virtually) and started to discuss the next phase of Split Hero, our roadmap, and some of the exciting ideas we had for new features as well as some much-requested ones.
We started looking at what to do first and how to work things into the UI and quickly come to the conclusion that we've essentially outgrown our own platform!
What we decided to do was take the best bits from the current UI and then completely rebuild the Split Hero front-end from the ground up ready for the future!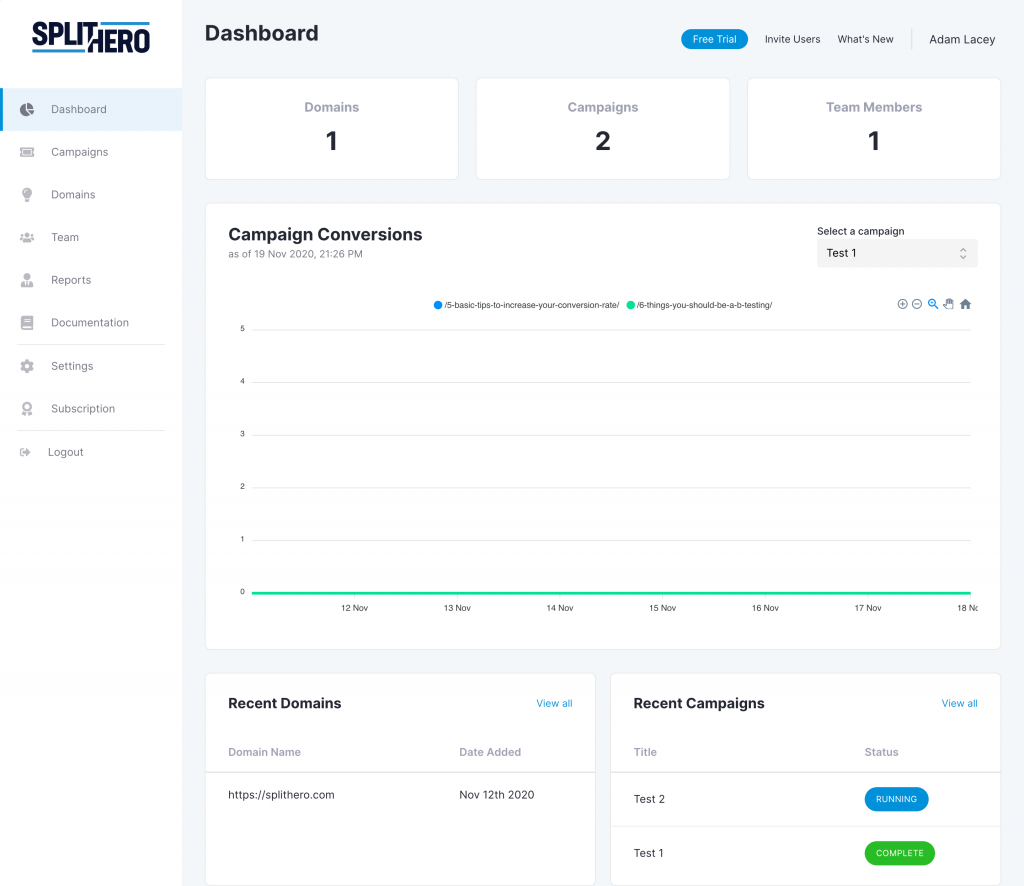 As you can see, we've been very busy. Not only does it look great (in our opinion) but we've added a bunch of quality-of-life updates to be included with this update.
This leads us to the first benefit of a full rebuild...
Now faster than ever!
When we first started Split Hero we used an off-the-shelf front-end to speed up development and for us to test the market quickly. By rebuilding this ourselves, completely from the ground up, we've reduced the dependencies on some unnecessary elements.
What this means is with this new and fresh front-end, Split Hero is now around 120% faster than before. The application is super fast to use and that makes working with Split Hero more efficient than ever before.
Let's dive into all the quality-of-life updates we've included in this update.
New Features & Enhancements
- Enhancement: Dashboard Updates
We previously displayed active campaigns, connected domains, traffic for all campaigns in the account, and total conversions for all campaigns in the account. This was a good starting point for us but we quickly realized the last 2 metrics were pretty much irrelevant for people.
We've changed this to display just 3 more appropriate account-level stats - domains, campaigns, and team members.
A new addition to the dashboard is quick access to a campaign graph to see the conversions for any campaign. Just select the campaign you want to view and adjust the date range and boom! All right there on your dashboard.
- Enhancement: Sync to Split Hero
When syncing your pages/posts to Split Hero in the plugin settings, we didn't really consider what would happen if a page was deleted in WordPress. If the user pressed 'sync' again, the page ended up staying in Split Hero even if the page was deleted in WordPress.
We've now set up the sync to remove any pages in Split Hero that are no longer in WordPress. A nice little fix.
- New: Overall Campaign Results
We actually didn't realize this was missing until we re-designed everything. Looking at the campaign view, we always displayed the individual stats broken down by URL as well as having a graph showing the conversions over the last 7 days, but we didn't have an overall campaign stats view.
We now do!

This allows you to get a quick assessment of the campaign's overall performance and see how many users have visited and how many conversions have happened in total across all URLs combined as well as the conversion rate percentage.
Pretty nice!
- Enhancement: Campaign Graph
On the campaign view, we had a graph showing the last 7 days of conversions for each URL on the campaign. This was nice but we thought it could be better.
Introducing complete date range control of the graph! You can now change the graph to display conversions across any date range you'd like to see.
- Enhancement: Campaign Archive
We always gave the option for users to be able to archive campaigns to remove them from their account, however, there was no real way to be able to see campaigns in the archive or restore them without speaking to support.
That's been fixed. You can now view archived campaigns and restore them.
- Enhancement: Complete Campaigns
Sometimes users decided they had let campaigns run long enough and they were ready to mark them as complete before the campaign end date. Unfortunately, there was no way to do that without speaking to support and that was a pain because users were unable to generate PDF reports unless campaigns were in the 'complete' phase.
You can now manually mark any campaign as complete and generate a report straight from the completed campaign view.
- Enhancement: Edit Campaigns
What if you schedule a campaign for a start date in the future and you want to bring it forward or push it back? Well, now you can do exactly that!
You can also edit the end date of a campaign and campaign title at any time.
- New: Preview Mode
There are some scenarios where users need to be able to show clients/other people's pages in a campaign without getting caught up in the redirection process.
You can now do that by adding a preview string to the end of the desired URL. All you need to do is add '?preview' to the end of the page URL in the campaign. For example https://yourdomain.com/pricing?preview.
What if your page already has parameters? We have you covered. Just use '&preview' instead.
Summary
To sum up, we've been hard at work but I can't wait for you to check out this update and get hands-on with it. I'm sure you'll love it as much as we do.
As for what's next, we are currently working on implementing some new and exciting features as well as reviewing some of our roadmap suggestions. We welcome all user suggestions and try to work on the most popular suggestions first. If you do have an idea or want to see some of the current ones, check out our roadmap here where you can upvote/comment on suggestions that are important to you or add your own. Please do that, we want to hear from you!